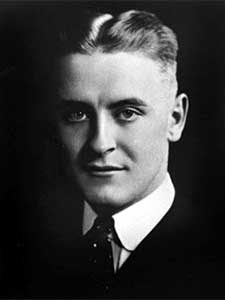 "Francis Scott Key Fitzgerald was born in St. Paul, Minnesota, on September 24, 1896, the namesake and second cousin three times removed of the author of the National Anthem" (Bruccoli). He is widely thought of as one of the greatest authors of the twentieth century. A modernist writer of the "lost generation," Fitzgerald mainly wrote novels and short stories that were "evocative of the jazz age" (Marc), but later in his life, he had a brief stint in Hollywood writing screenplays, which proved unsuccessful, largely due to his excessive drinking. He went to college at Princeton University but "neglect[ed] his studies to write scripts and lyrics for the college musicals and magazines" ("F. Scott Fitzgerald."). He decided to quit Princeton in 1917, choosing instead to receive"his education from writers and critics" (Bruccoli). He joined the army to fight in the First World War, but the war ended while he was still in training. It was here that he "revised the first draft of his novel, This Side of Paradise (1920), and also fell in love with 18-year-old Zelda Sayre (1901-48),
who, as the archetypal flapper, was to become as integral a part of Fitzgerald's fiction as he was.The publication of This Side of Paradise on March 26, 1920, made the twenty-four-year-old Fitzgerald famous almost overnight, and a week later he married Zelda in New York. They embarked on an extravagant life as young celebrities" (Bruccoli). Throughout the "roaring twenties," they were the toast of the town and lived the life of the party, albeit well beyond their means. "His short stories, however, were in great demand, and paid for his and Zelda's hotel-society lifestyle" ("FITZGERALD"). "In 1924 the Fitzgeralds left their Long Island home for the French Riviera" (Marc), where Scott wrote his masterpiece, The Great Gatsby (1925), a sensitive, satiric fable of the pursuit of success and the collapse of the American dream" ("F. Scott Fitzgerald."). The novel received rave reviews but sold poorly. His marriage and his confidences as a writer began to deteriorate. So did his bank account and Zelda's mental health. Fitzgerald's "life frequently overshadows his work as he has become an archetypal figure--or a cluster of overlapping archetypes: the drunken writer, the ruined novelist, the spoiled genius, the personification of the Jazz Age, the sacrificial victim of the Depression… At the time of his death at age forty-four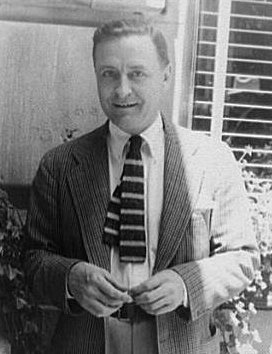 (1940), F. Scott Fitzgerald was considered an exemplary and monitory figure. There was general agreement that he epitomized his generation, that he had not fulfilled his genius, that his history provided a warning...F. Scott Fitzgerald's life had "some sort of epic grandeur. He was a hero with many flaws, but a hero. In a professional career of twenty years he wrote three of the great American novels (one of them unfinished) and a score of brilliant stories while afflicted with a host of troubles, many of his own making. He was honorable and generous. His words endure" (Bruccoli).